Description
Creality Box v2.0
Mark Cheng, the project manager of Creality Cloud, said "Creality Cloud is going to be the most versatile 3D printing APP in the marketing. When matched with a self-developed Wi-Fi box by Creality, Creality Cloud will support the online printing/online slicing/online model library. In addition, Creality Cloud also has an interactive social function which will enable users to directly reach other professional designers/makers, Creality engineers, and even real-time online customer service from Creality."
Creality Box Features
One-click to open the ERA of Intelligent Could Print
Equipped with a high-performance master control chip, the 3D printer is seamlessly connected to the Cloud Server, bringing an efficient transmission experience.
Efficient Transmission, Signal Stabilization
Creality Box supports multiple connection modes, making it much easier to use. It quickly transmits the Cresality Box instructions and G-code file to the 3D printer. Wireless 3D printing brings more convenience.
Real-time Remote Control
After connected to the Creality Box, your 3d printer can realize real-time remote control and printing monitoring, relevant parameters set up directly by the APP of Creality Cloud.
The Best Match for 3D Printing: Creality Box + Creality Cloud
There are many model files that are included in Creality Cloud, covering culture, art, education, industry, medical and other fields, together with Creality Box, which truly becomes a mobile cloud model gallery.
Easy to connect: No worries of 3D Printing
Connect the 3D printer to the USB port on the Creality Box, and you can start slicing and printing on the Creality Cloud APP, which is easy to get started.
Operation steps
Insert TF card- Connect the 3D Printer-Connect the box power supply-Turn on the printer switch-Download the Creality Cloud APP-Scan code to add Creality Box-Network configuration within the APP-Start printing
Tiny Body & Huge Power
Creality Box Parameters
Box size: 64x90x20mm

Input voltage:5V/2.4A

Terminal Interface: RJ45 Ethernet /WiFi

Wireless Communication: Support WI-FI 802.11 b/g/n, 2.4G BAND

USB2.0: Connect and control the 3D printer, camera, etc. external device

 

TF Card Connector: Support FAT32/exFAT format TF card

Creality Box Article
Creality Releasing 3D Printing APP Creality Cloud to Achieve Remote 3D Printing  

Remote 3D Printing via Wi-Fi: Octoprint vs Astroprint vs Creality Cloud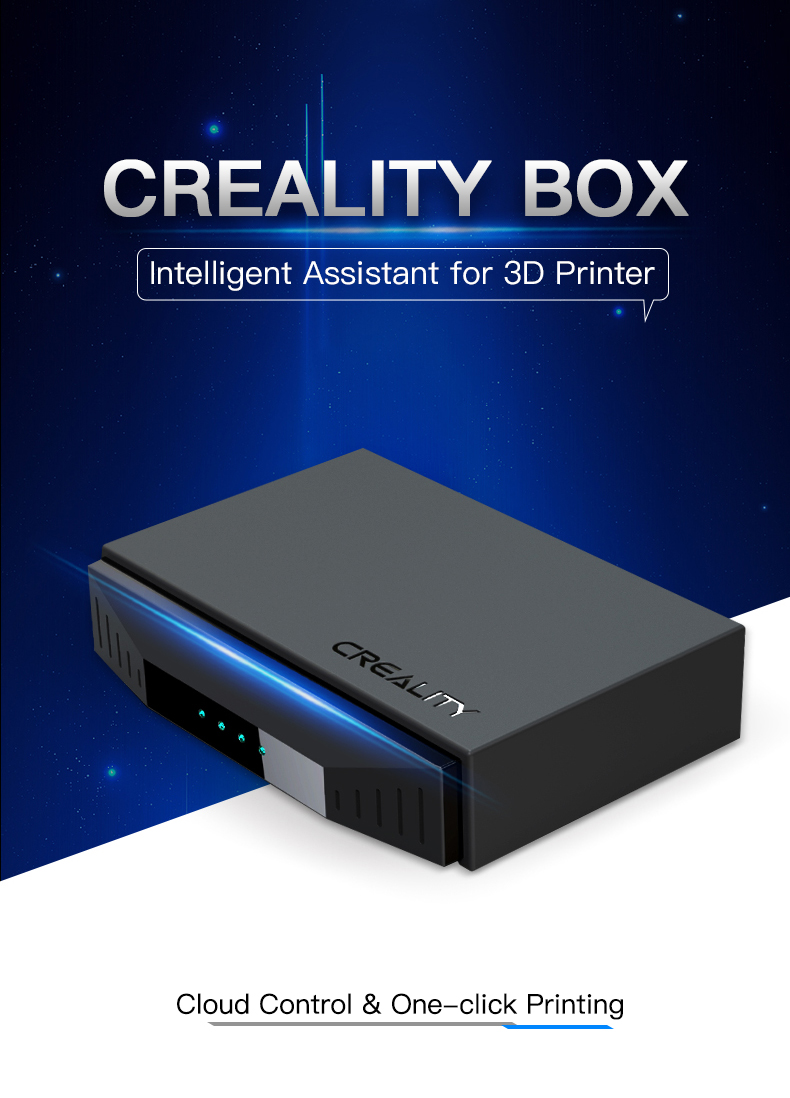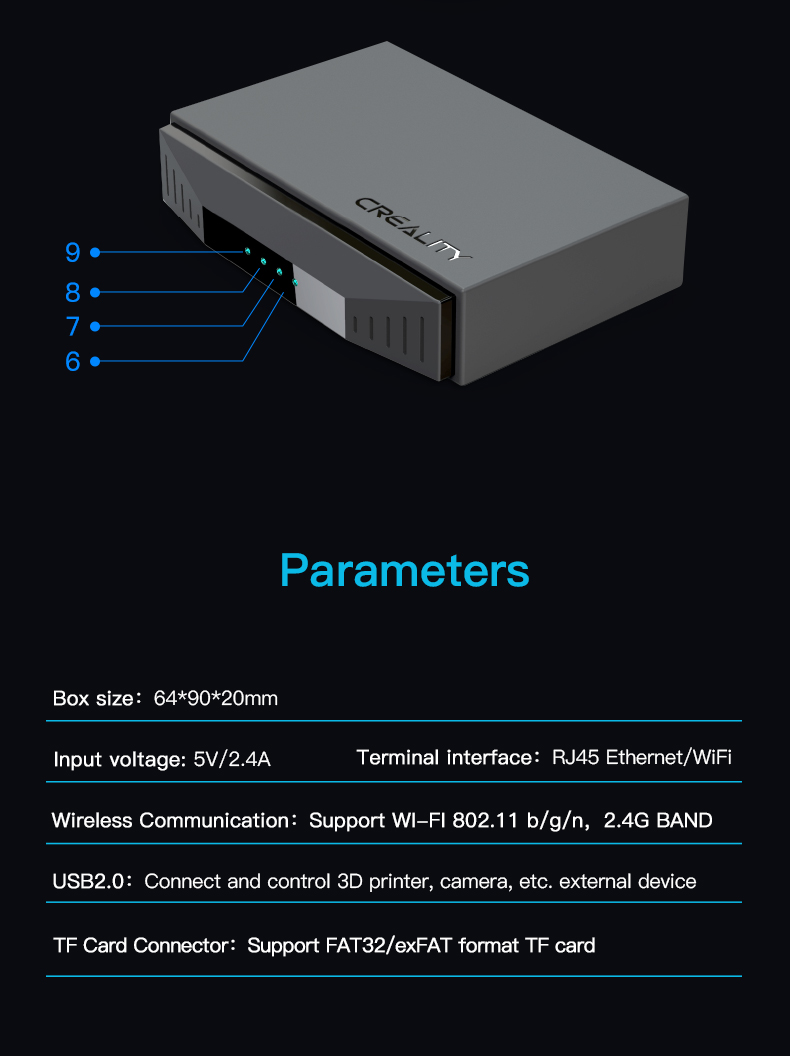 Payment & Security
Your payment information is processed securely. We do not store credit card details nor have access to your credit card information.