Description
Beambox Pro
The Smart Desktop Laser Cutter & Engraver
Free your inner artist and bring your ideas to life. Beambox Pro is a powerful laser cutter and engraver that lets you shape, cut, and engrave on materials like wood, leather, acrylic, and cardboard. Beambox Pro meets all your expectations, and goes way beyond.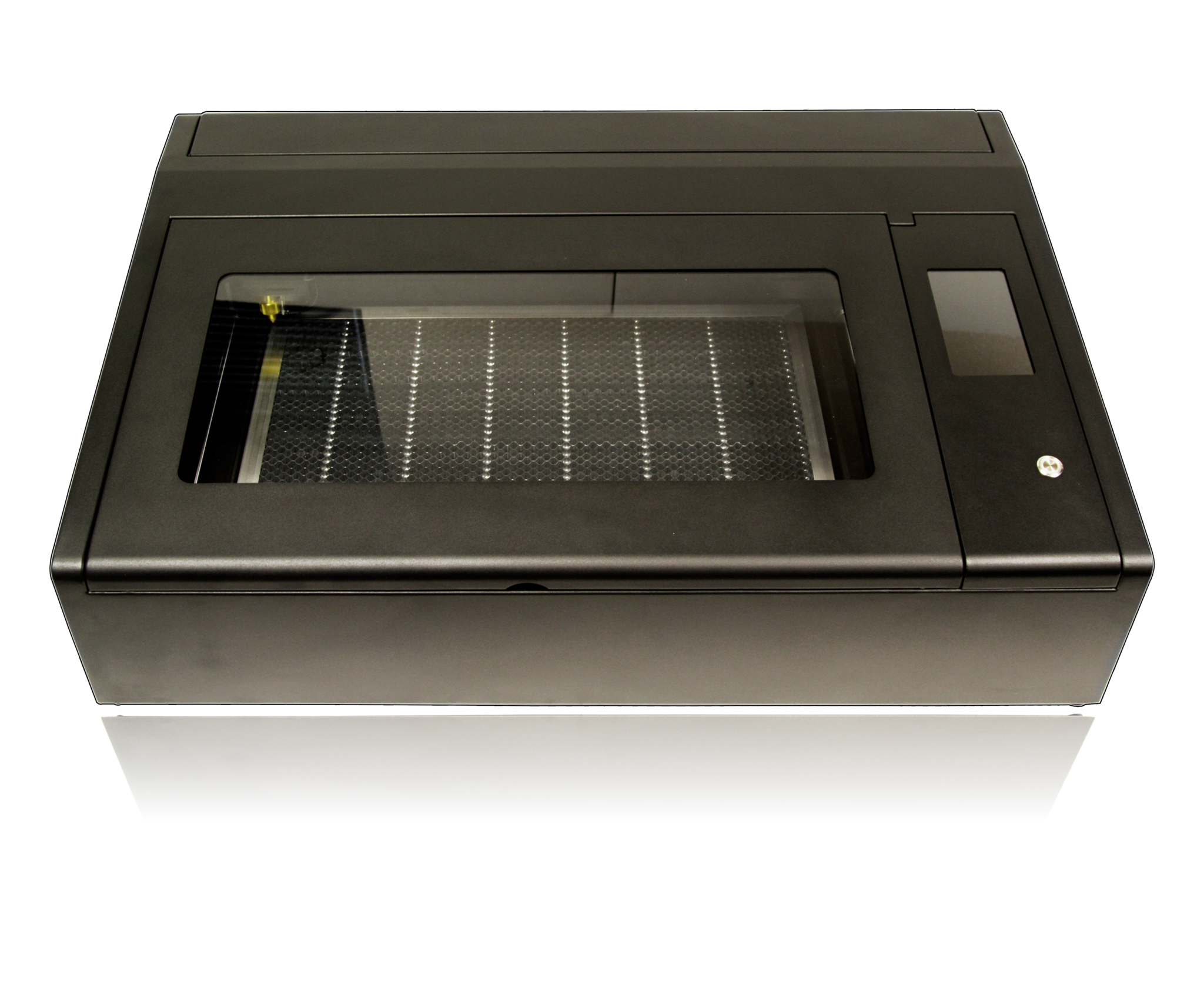 Beambox Pro can cut...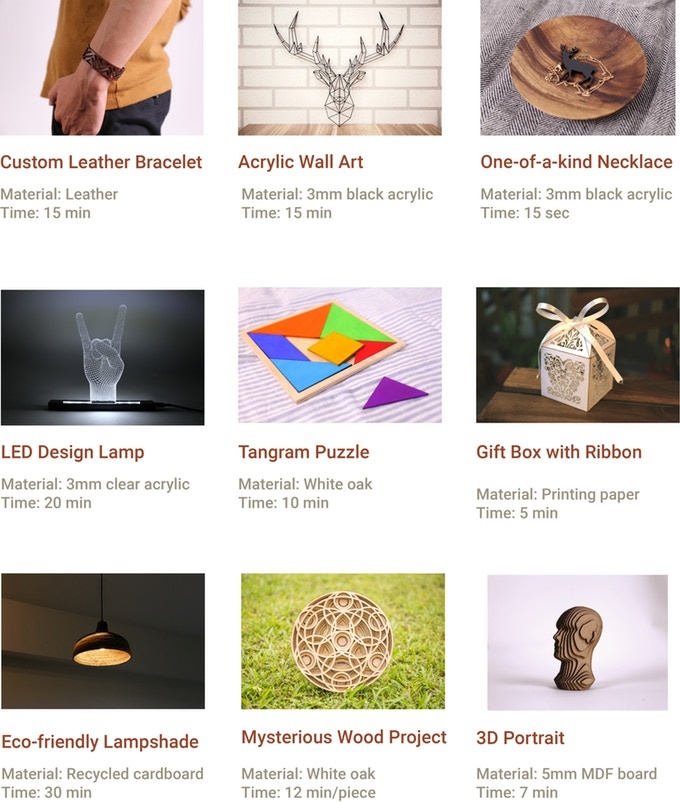 ...and also engrave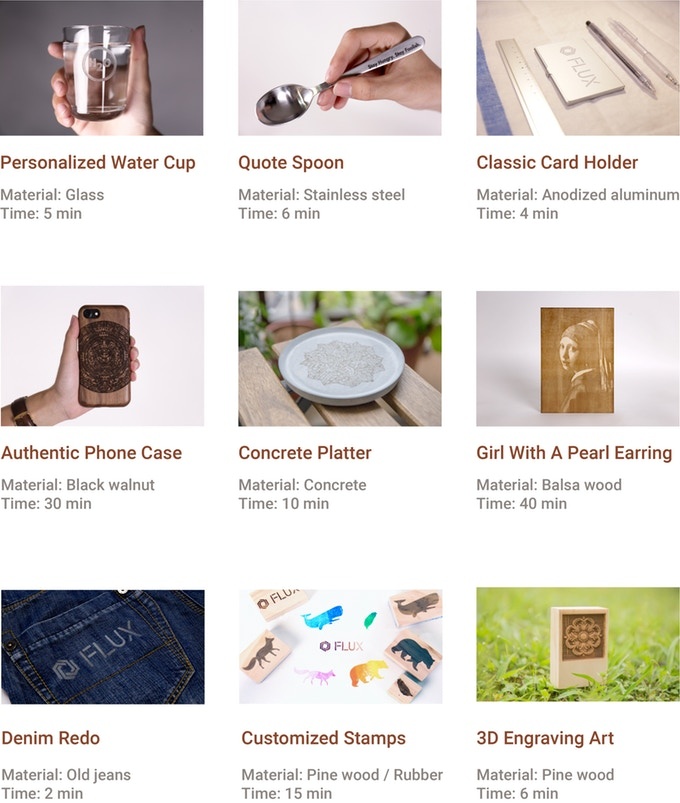 Materials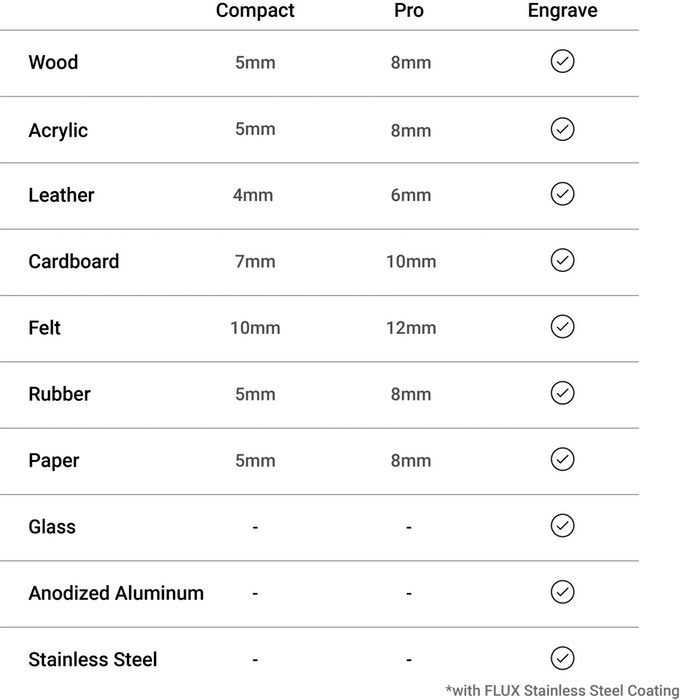 Camera Preview - What You See Is What You Get 
See the work area live on your laptop or computer. Use the onboard HD camera to preview the work area and the material of your choice. Place your design exactly where you want, and get exactly what you expect.
Beambox 

and Beambox Pro
We created 2 models. The Beambox and Beambox Pro. The Beambox model uses a 40-watt laser tube and comes in a convenient size. It's perfect for your home and creative use. The Pro model uses a high powered 50-watt laser tube and offers a spacious work area. It is designed for shared or all-day use. It's perfect for business, school, makerspace, and more.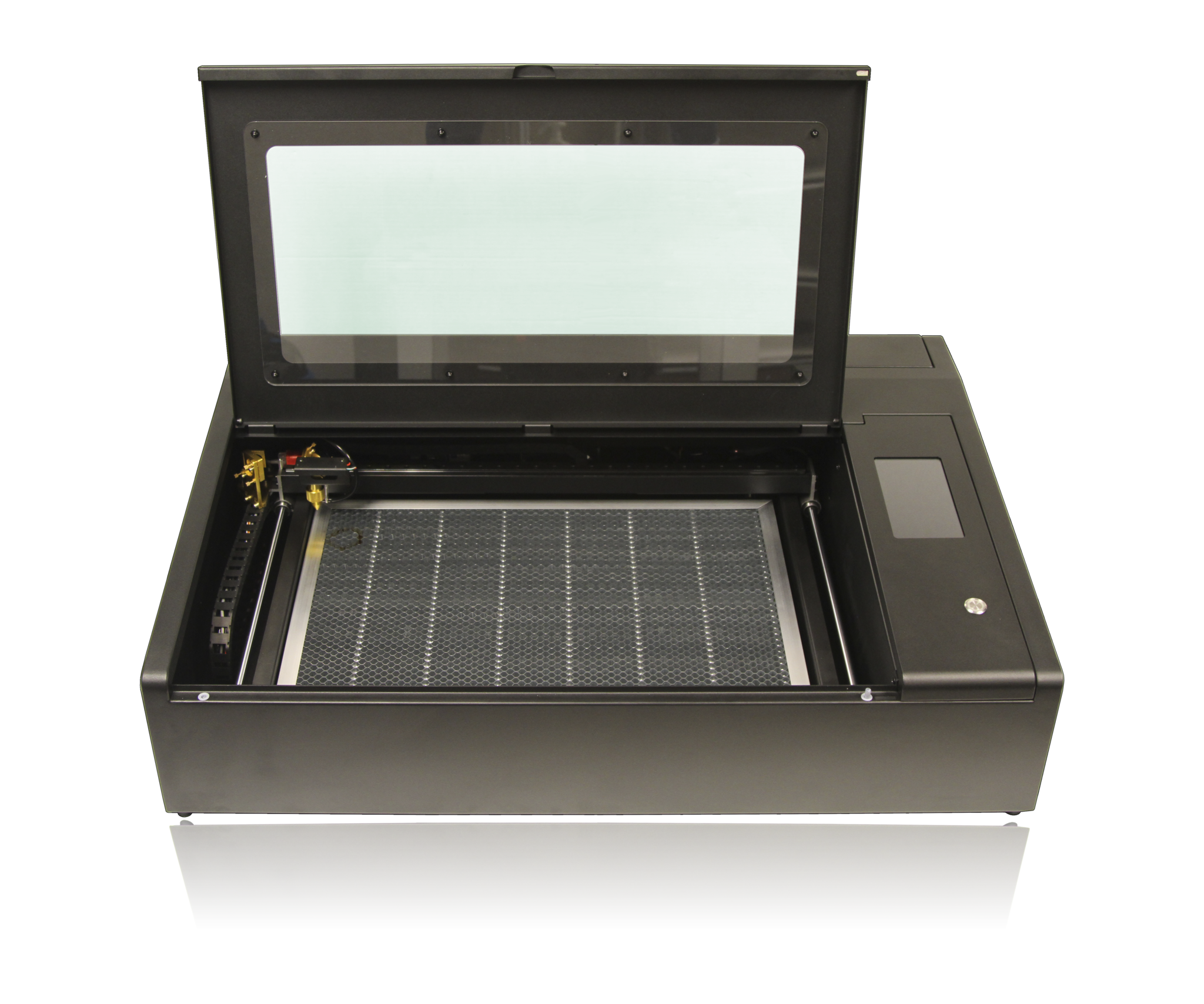 What's inside the box?
1x FLUX Beambox Pro (distilled water not included, has to be filled before usage)
1x Tape to align the mirror's
1x Package with wrench's and extra tool's
We Make It Easy
| | |
| --- | --- |
| 1. | Create your own design, or simply import JPG, PNG, SVG, or DXF files.  |
| 2. | Use FLUX Studio to set up cut/engrave layers, adjust power levels, and set speeds.  |
| 3. | Preview the work area to see what the finished task will look like.  |
| 4. | Press start and, with a push of a button, Beambox Pro will bring your ideas to life! |
From Big Idea To Finished Product
Beambox Pro offers a spacious work area of 600x375mm (23.6x14.7), while the Beambox has a smaller footprint at 400x375mm (15.7x14.7").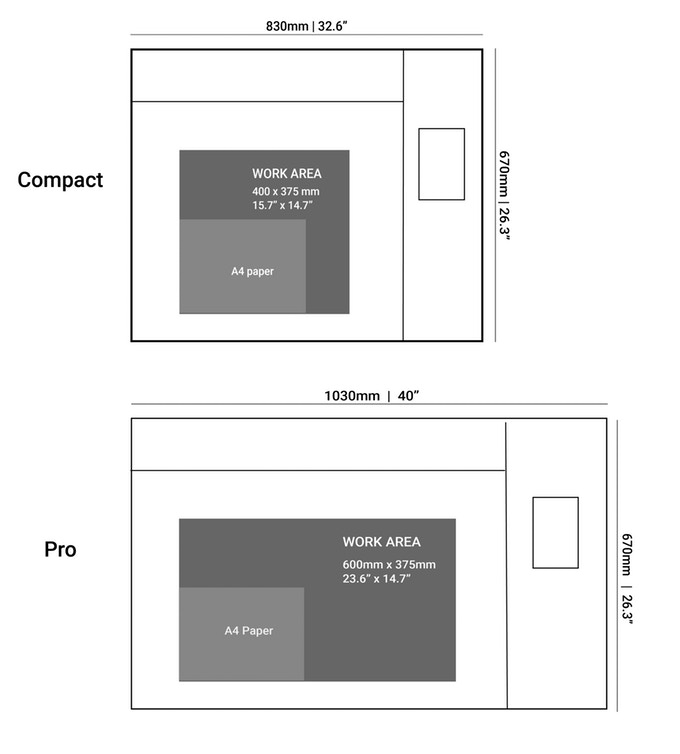 Intuitive and Ready To Use
Control and monitor your Beambox Pro using the built-in touch panel. Make sure your design is perfectly aligned using the built-in camera to preview the work area. Our efficient water cooling system takes simplicity to a whole new level.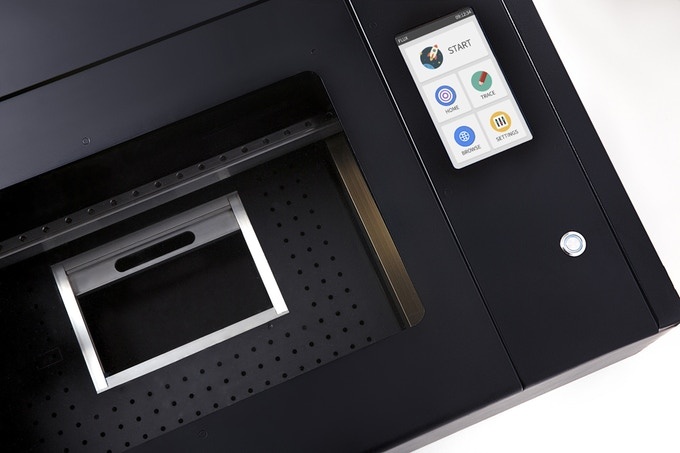 Premium Laser Performance
Equipped with premium quality rails, the performance and durability of Beambox are unparalleled. The laser engraves in vector and raster mode up to a 1000 DPI, allowing you to showcase your design in high resolution.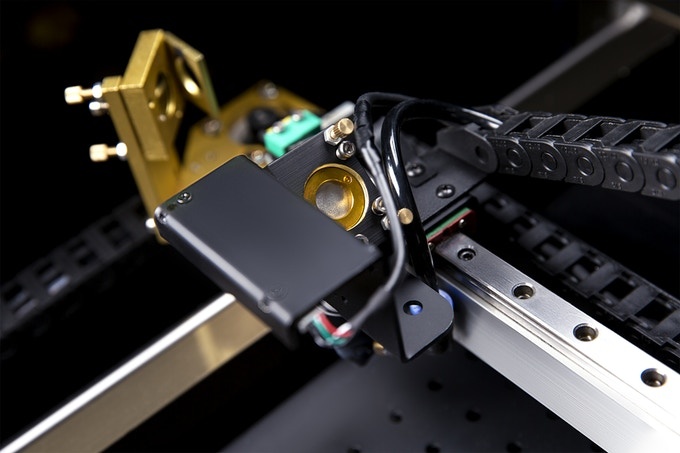 About Flux Studio
FLUX Studio is the intuitive software that ships with Beambox. It's compatible with Windows, macOS and Linux. Its clean user interface allows you to easily access all features of Beambox. FLUX Studio connects to your network using Wi-Fi or Ethernet. It can also connect to your personal hotspot. Multi-computer control makes it perfect for makerspaces and schools. The software supports JPG / PNG / SVG / DXF files, and saves the layer settings you've used.

Rotary Add-on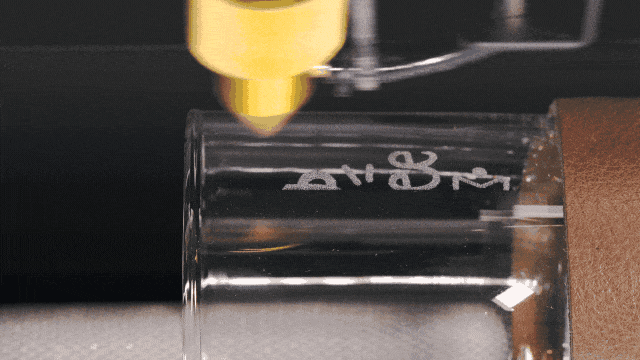 Unlock Beambox Pro's 3D potential with the rotary add-on, which allows you to engrave on curved objects like glassware and bottles by spinning the workpiece. This add-on also extends the maximum material height from 45mm to 105mm. This easy-to-setup module opens up a whole new set of creative possibilities. 
Safety First
Safety is a top priority. We implemented several safety mechanisms to make sure that you're safe: 
- Full enclosure: The work area is fully contained, protecting you from the laser light. 
- Smart lid sensor: The machine automatically pauses if the lid is opened during a task.
- Emergency power switch: Though very unlikely, if an emergency occurs, users can shut down the machine immediately with a single switch.
- Compact water cooling system: Closed-loop liquid cooling system that pauses the task if the temperature gets too high.
- Integrated ventilation system: The ventilation fan produces 340CMH (200 CFM), helping to prevent fires while extracting smoke and fumes.
Payment & Security
Your payment information is processed securely. We do not store credit card details nor have access to your credit card information.